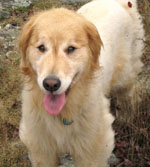 Q.  How do I sign up for dog walking or pet sitting service?
A. You can call Ellen at 413-663-0594 or email ellen@berkshirebarks.com and she will happily discuss your pet care needs and arrange an in-home consultation.  This will provide an opportunity to meet Ellen and review your pet's routine, diet, and exercise needs.  Please print out the Client Forms and have them completed prior to the visit.  There is a $25 fee for the visit, which is credited when you book your first reservation for pet care.
Q.  How much advance notice do you require before service?
A. You should contact Berkshire Barks Pet Sitting as soon as you have plans and will need pet care.  During holidays and summer time the schedule quickly fills up.

Q. I live outside your service area.  Can you still serve me?
A. The standard service areas are Williamstown and North Adams.  At this time, those are the only areas where pet care is provided.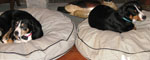 Q.  What is the earliest you can visit?  The latest you can visit?
A. The earliest visit in the morning is 7 am.  The latest visit in the evening is 8 pm; late night visits available at slightly higher fee.
Q. Are you insured?
A.  Yes, Berkshire Barks Pet Sitting is fully insured.  Any professional, responsible business carries liability insurance.
Q.  What type of special training do you have?
A.  I am trained in Pet First Aid and Pet CPR by the American Red Cross.
Q. What is the purpose of the In-Home Consultation?
A. An  in-home consultation provides an opportunity to meet your sitter and communicate any information necessary to provide the best care of your pets.  It provides an opportunity for your pets to meet the pet sitter and become familiar with the sitter prior to providing service.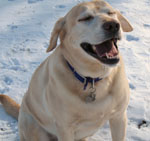 Q. Do I have to leave a copy of my key on file with you?
Two copies of the house key are required at the initial consultation.  If I need to come to pick-up a key prior to service or return a key a $10 fee, per trip, will be charged.
Q. How is payment handled?
A. During the initial consultation an advance payment for the first pet care service will be required.  Once you are an established client, payment will be due the day service begins.  For weekly dog walks, payment will be arranged that is most convenient for you.
Q. What type of payment do you accept?
A.  I accept cash and personal checks.   Returned checks will be charged a $30 fee to cover bank costs.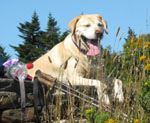 Q. What is your cancellation policy?
A.  Pet Sitting service: Cancellations must be made  3 days prior of first visit, or you will be charged for the full amount of the entire booking. There are no refunds or credits for early returns. Overnight Service: Cancellations must be made at LEAST a week in advance or you will be charged the entire amount of the reservation.  If you reconfirm a reservation for overnight service there is no longer an option to cancel at any time and all fees will be billed.  For busy holiday periods a 50% deposit will be required to secure your reservation.  Daily Dog Walks: There is no cancellation fee provided 24 hours notice is provided.
Q. Can you keep my pet at your home?
A. Boarding or kenneling facilities are not offered.  Only care provided in your home is available.  This allows your pet to stay in the security of their own home and routine.
Q. Will you just do the morning and afternoon visits?  My friend will come by in the evening after work to care for the animals (or will you do visits from XX date to XX date?  My brother will do the rest of the visits until we get home).
A. No, I do not do job shares.  This means I will not pet sit when someone else (a friend, neighbor, relative etc) is also caring for your pet.  I should be the only person caring for your pets while you are gone.  There are many issues that arise when you have multiple people caring for your pet. Communication often breaks down between caregivers.  Pets get double food, double medication, visits missed, the other person doesn't show up when scheduled, they move needed items to different locations, leave the door unlocked, etc.   If something goes wrong you would not know who the responsible party was.   My insurance would not be in effect if I was not the sole caregivers, so please do not ask me to do job shares.  If other friends, family, contractors or other pet care people are in your home while you are away, Berkshire Barks Pet Sitting will NOT be held liable for any damage to your home, theft, or escaped pets.  When someone else has access and permission to be in your home while you are away I can not be held responsible for what they may or may not do.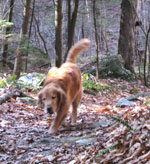 Q. Why shouldn't I use my neighbor's child or a low cost pet sitter?
A.  In most cases you get what you pay for.  Isn't it worth a little more to ensure that your pets and home are in safe hands and that if something goes wrong it will be taken care of by a professional pet care provider?
Q. Will you do a visit for our cat every other day or every few days?
A. No, I require that cats get at least one visit per day. Cats can get trapped/stuck in areas of the home or have other emergency medical conditions.
Q.  I'm going to be traveling for 2 months.  Do you provide long-term overnight sitting?
A.  Absolutely.  Long-term overnight sitting in your home is available.
Q. Will you just let my dog outside to potty with no fenced yard or tie-out?  He just does his business and comes right back in.
A. No, for liability reasons I would not let dogs out without a leash.  He could get lost or injured or he could injure someone else while not under leash control.  It is also against the law.  Even if the dog is well behaved and obedient for you off-leash, it does not mean they will listen to me.  Dogs need to be let into a fenced yard (an invisible fence is okay) or pen, clipped to a tie-out or walked on leash.
Q.  What will you do if my pet becomes ill while I am away?
A. If it appears that something is wrong with your pet, you will be called at the emergency numbers on file for you.  If you believe the veterinarian should see your pet, the pet will be transported to the veterinarian's office for examination and treatment.  If you can not be reached, I will decide if your pet should be seen by the veterinarian.  If necessary, your pet will be taken for treatment.  You will be billed by the hour for time at the Vet office and for transporting costs in providing these services.

Q. Can you take my dog to a dog park or for hikes on trails off leash?
A. Yes, this is an option if your dog responds to voice commands.  Dogs  will be taken off leash only in locations where it is allowed.  You will need to complete an authorization and waiver document.  Please complete the document in full.  It requires three signatures.  You can mail the waiver to the address on the form, or leave it at your home to be picked up during the first visit.  Without a completed and signed authorization and waiver document it will not be possible to provide this service.
Q. Are there additional fees charged on holidays?
A. I do charge a Holiday Fee for Easter, Memorial Day, Fourth of July, Labor Day, Thanksgiving, Christmas Eve, Christmas, New Years Eve and New Years Day. Holiday Charges will be 1.5 times the regular rate for the service you reserve.